Special Weather Statement - Boone (Iowa) In Effect ... [Click here for more]

Updated:

05-Jul-2020 @ 8:40am

Temperature
Current Conditions
Forecast / Storm Prediction

Currently Outside:



80.7°F



Heat Index:

85.1°F




---



High Today


80.7°F


8:39 AM
Low Today


65.8°F


5:52 AM
Yest High


90.7°F


3:41 PM
Yest Low


71.2°F


12:15 AM
Sta* High


97.3°F


2012
Sta* Low


62.0°F


2014
* This Station's Records Since 6/2010

Sunny, Dry




Wind:

ESE




0.0


Gusting to:


0.0 mph

Rain:


0.00 in

Current CBI
Fire Danger:


2.5

of 100


Today


Mostly Sunny

Tonight


Partly Cloudy

Monday


Mostly Sunny

Hi

90 °F ↓

Lo

68 °F

Hi

90 °F ↓

Dew Point
Liquid Precipitation
Wind Speed
Sun/Moon

Current:

72.4°F

Last Hour:

3.2°F

High 8:38 AM:

72.6°F

Low 5:52 AM:

63.1°F

Record High:

83.5°F on


8/4/2016
Record Low:

-27.2°F on


1/30/2019
Wetbulb:

75.1°F

Rain Today



Today:

0.00 in

Yesterday:

0.00 in

Last 7 Days:

0.04 in

Jul Rain:

0.00 in

Jul to Date
Avg:10

0.00 in

Jul to Date
Diff from Avg:10

0.00 in

Jul Avg:

3.29 in

Diff from Avg:

3.29 in

Season:1

11.07 in

YTD
Avg:11

0.00 in

YTD
Diff from Avg:11

11.07 in

Last Rain
Time/Date:
6/28/2020
at 7:26 AM
65 rain days in 2020
0 days in July
6 days since last rain

Current:

ESE

0.0 mph

1Hr Average:
Calm
Wind Run:

0.00 miles

Wind Gust
Current:

0.0 mph mph

Today:

0.0

mph

3:04 PM

Month:

17.0 mph

Jul-1
Year:

41.1 mph

Apr-9
Record Gust:

176.0 mph


4/2/2016

Sunlight:


15 hrs 7 min
of Sunlight Today


63%

37%


Which is
0 min 52 sec Shorter
Than Yesterday


10%


Illuminated

Humidity
Barometer

Current:

76

%
Last Hour:
13%
High 6:17 AM:
93%
Low 8:38 AM:
76%
Record High:
100%
1/8/2012
Record Low:
15%
4/11/2014

Current:

29.981 inHg

Last Hour:

Steady

High 8:37 AM:

29.982 in.

Low 2:23 AM:

29.939 in.

Record High:

31.110 inHg


1/7/2015
Record Low:

24.436 inHg


4/2/2016

Cooling Degree Days
Snow3
Heat Index

Today:
1.5
Jul:
54.7
2020 to Date:
386.6
Heating Degree Days
2020 to Date:
3731.4

Today:

0.00 in

Yesterday:

0.00 in

Jul Snow:

0.00 in

Jul Avg:

0.00 in

Diff from Avg:

0.00 in

Season Total:2

0.00 in

Snow Depth:

0.00 in

0 snow days in July
0 snow days this season.2
First Snow of Season:
//
Average 1st Snow:


Current:

85.1°F

High 8:39am:

85.1°F

Yesterday:

95.3°F

Record:

122.0°F


7/19/2019

Current UV Index
Current Solar Energy9

1.4

Sunburn in

80

Minutes
Highest:
8:38 AM


1.4

429

W/m2


93

%
W/m2 ⇒ SI
High Today:
8:39 AM


429

W/m2 Record:
1413 W/m2

Almanac
Irrigation Index5
Station All Time Records
Outlook

Currently:
Morning
YTD Avg Temp:

47.0°F

Sunrise:
5:46 am
Sunset:
8:53 pm
Moonrise:
8:54 pm
Moonset:
6:00 am
Full Moon:
0/July/2020
New Moon:
17:33 UTC
0/July/2020

Updated at Midnight
Current ET:

0.06 in

7-Days Rain:

0.04 in

7-Days ET:

1.00 in

7-Day:

0.961 in

July:

0.77 in

Support this Site!
Your donation helps support this site
Cloud Height:

1894 ft

HIGHS:
LOWS:

104.7°F


7/23/2012

-19.7°F


1/30/2019
Daytime Records

93.9°F


7/23/2012

-11.9°F


1/30/2019
Nitetime Records

85.3°F


6/28/2012

-14.4°F


1/30/2019
ICN:18 | S3C2:1

| Ajax 3.xx


ISS:Ok |

Tonight


Partly Cloudy

1 Rain season: Jan 1st to Dec 31st. 2 Snow season July 1st to June 30th. 3 Snow manually measured usually around 7AM and 7PM. 5 Estimated amount of water needed to replace the water used by plants and evaporation from the past week. (Negative numbers mean amount of water needed, positive numbers mean excess water is present). 9 Solar Index represents either an absolute scale of solar energy (W/m²) using the station's recorded maximum or a percentage of computed theoretical solar maximum using the station's location and time of day. These indices differ most when the sun is low on the horizon. The current scale is shown, and will toggle if it or the icon is clicked. 10 Historical average only to day 5 of just the month of July for this station since 2011. 11 Historical average rain this season to day 5 of July for this station since 2011.
NWS Weather Forecast - Outlook Today & Tonight
Today


Mostly Sunny

Hi

90 °F ↓

NWS forecast: Mostly sunny. High near 90, with temperatures falling to around 88 in the afternoon. South wind around 3 mph.

Tonight


Partly Cloudy

Lo

68 °F

NWS forecast: Partly cloudy, with a low around 68. South wind around 3 mph.
NWS Short Term Weather Forecast
Monday


Mostly Sunny

Monday
Night

Partly Cloudy

Tuesday


Mostly Sunny

Tuesday
Night

Mostly Clear

Wednesday


Sunny

Wednesday
Night

Chance Showers And T-Storms

Thursday


Chance Showers And T-Storms

Hi

90 °F ↓

Lo

70 °F ↑

Hi

91 °F

Lo

71 °F

Hi

94 °F

Lo

71 °F

Hi

89 °F

Severe Thunderstorm Forecast
SPC Day 1 forecast Meso Discussion Severe Watches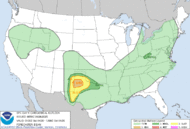 Fire Danger Index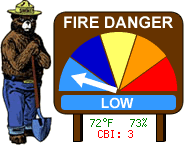 US Surface Map